​The 300 mile trip not only marked the 300th anniversary of Freemasonry but raised over £21,000.00 to be split equally between the Rainbows Children's Hospice in Loughborough and the Masonic Charitable Foundation. The 23 cyclists ranged from 19 to 64 years of age and were from 15 masonic lodges based in Leicester, Oakham, Syston, Market Harborough and Ashbourne in Derbyshire.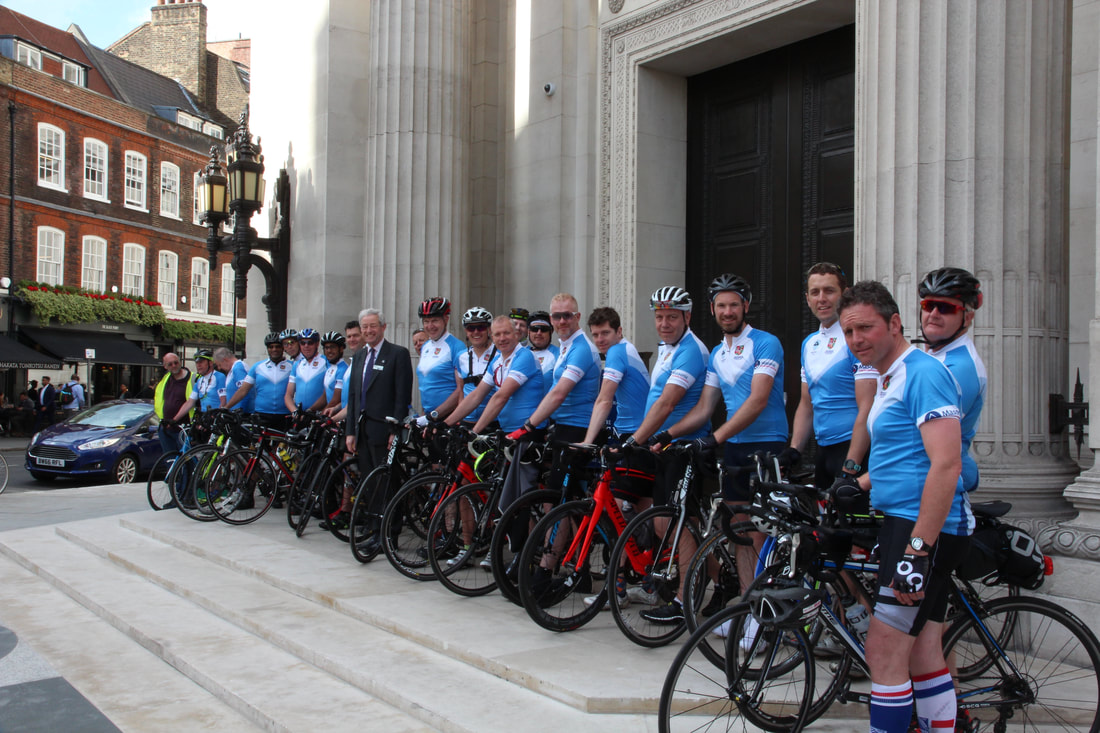 They were waved off from Freemasons' Hall, Leicester by the Deputy Provincial Grand Master, V.W.Bro. Jim Buckle, and Helen Smith from Rainbows, and during the ride were welcomed by Brethren at the Masonic Centres in Loughborough, Ashby-de-la-Zouch, Coalville, Hinckley, Lutterworth, Market Harborough, Uppingham, Oakham, Melton Mowbray and Syston. They were also warmly welcomed at Freemasons' Hall, London by the Chief Executive of the Masonic Charitable Foundation, David Innes. The cyclists made a quick detour in London to visit St. Paul's Churchyard where the first Grand Lodge of England was formed 300 years ago in 1717 at the Goose and Gridiron ale-house. 
W.Bro. Simon Oldfield from the Wyggeston Lodge and organiser of the event, said: "We are all proud to have taken part in a great adventure, and such an achievement by all the riders and support crew, great team spirit and camaraderie to raise money for charity." The cyclists arrived back on schedule at Freemasons' Hall Leicester where they were welcomed by the Assistant Provincial Grand Master, V.W.Bro. Peter Kinder and a large number of family and friends.